Comprehensive Features for Growing your Brand.
All the features you need for marketing your brand and selling online, included.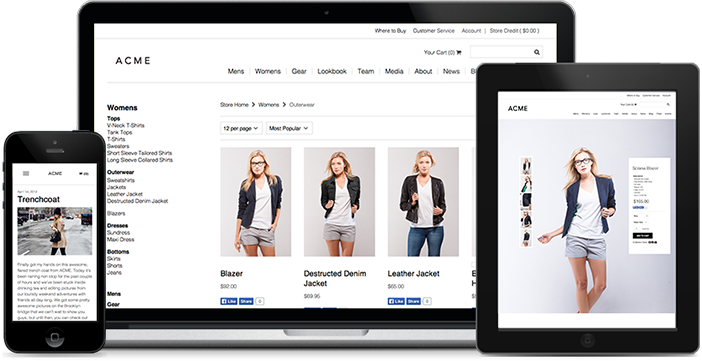 Ready to Get Started?
Guided Tour
Get Started

Content Marketing Features (CMS)
CMS features that are integrated with your shopping experience so you can promote products on your Press, News, Team, Blog, Lookbook, Events, Photo Galleries, and more.

eCommerce
Sell more with Web Cube's beautiful conversion optimized layout which includes best practices and is loaded with advanced marketing features such as Customer Rewards, Gift Cards, Discounts, BOGOs, Tiered Pricing, and much more.

Mobile
Engage your mobile customers with Web Cube's out-of-the-box mobile responsive template which delivers an optimal user experience across smartphones, tablets, and desktop devices.

Analytics
Web Cube helps you navigate your online business with analytics, dashboards, and reporting that empowers you to manage, merchandise, and optimize your brand's digital strategy.

SEO
With built-in SEO best practices and code structure, you get a jump start on optimizing your website. You can use Web Cube's powerful SEO engine to tune your content and drive more traffic.

Social Media
Web Cube is tightly integrated to Social Media with the ability to manage Facebook Pages, Opengraph integration, Social Sharing, pre-built feeds for Twitter, Instagram, Facebook, and more.

Advanced Marketing Promotions
Web Cube's powerful promotion engine allows you to run the marketing promotions that you need to build your brand without the limitations that you find with other platforms.

Customer Rewards
Reward your customers for interacting with your brand, referring customers, and purchasing on your store - turn your fans into loyal brand advocates.

International
Build your global audiance and grow your brand with language translation, international currencies, localized content, and multiple storefronts for regional eCommerce.

Dealer Locator
Grow your wholesale business and your direct online business in harmony by driving traffic to your dealer locator, helping customers easily find a store to buy your product. Our Dealer Locator now includes location detection on Mobile!

Product Selector
Guide your customers through selecting the right product. This fun, interactive tool makes it easy for customers to find the right choice in a large catalog of products.

Lookbooks
Web Cube's Shopable Lookbook feature allows you to promote your seasonal campaigns, merchandise, and add lifestyle to your product presentation. Customers can easily buy the product right from your lookbook.

Easy Design
With easy access to HTML, CSS, and JavaScript, you can customize the design of your Website. Because your CMS, eCommerce, and Mobile are all one code base with one set of templates, the management of your website is streamlined.

Support
To ensure complete and expedient customer services, we offer helpful support options. You can use our online help center for articles, how-to's, messaging, and tickets. We also offer premium support and consulting options for help with complex systems.

Hosting
Web Cube includes fully managed cloud hosting for your website and online store. Large scalable options are available for Enterprise customers.

Order Fulfillment
Use Web Cube's streamlined order management, customer service, and fulfillment features or integrate to your ERP or 3PL with EDI or XML using our Fulfillment Configurator.
Start Growing Your Digital Brand
Get all the tools, services, and capabilities you need to run and expand your business.